Local Non-Profit Things of My Very Own, Inc. won second place in the 3rd annual National Diaper Bank Best Idea Contest in Kansas City, MO last week. The guidelines for the competition were open to the "Best Idea" in areas of marketing, development, distribution or any other area that would benefit diaper distributing social-welfare service providers. Two weeks ago, Things of My Very Own, Inc. CEO/Founder Rayn Boncie received a scholarship to represent the New York State Capital Region at the conference. Miss. Boncie chose to focus her efforts on Program Development and won an award in the "Most Creative" category.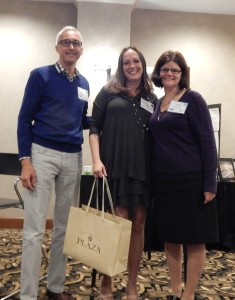 "I was honored to be chosen as this year's scholarship recipient and was quite nervous about competing with other organizations from across the United States. Winning second place in our first national competition is something that I never imagined possible." Said Boncie.
Client Relations Specialist Candra Kimball also attended the conference "It was an amazing experience. We were able to network with other child serving organizations from across the nation while educating them on the needs of the New York State Capital Region. We are honored to have won the award and even more excited that national leaders in the non-profit field will be coming to our new Crisis Intervention Center in coming months to discuss partnership opportunities and a collaboration of efforts."
Things of My Very Own, Inc. is a 501(c)3 non-profit corporation that provides crisis intervention services and programs to children who have been impacted by extensive abuse and/or neglect. The organization works to keep children with their non-abusive family members by providing provisions necessary for sustainability.
The National Diaper Bank Network (NDBN) is a national 501(c)(3) nonprofit organization dedicated to ensuring that every baby in the United States can be clean, dry and healthy. Our mission is to raise awareness of the diaper gap in America and to build the capacity of community-based diaper banks to serve families throughout the country by creating a national network of community partners. http://www.nationaldiaperbanknetwork.org/
For more information please contact Rayn Boncie at (518) 630-6137 or by email at [email protected]